The Coolest New Watches From The Watch World's All-Digital 2020 Trade Show
After watch brands were forced to cancel their annual fairs, they turned to Watches & Wonders to present their new collections. Here are our favourite new pieces from the event.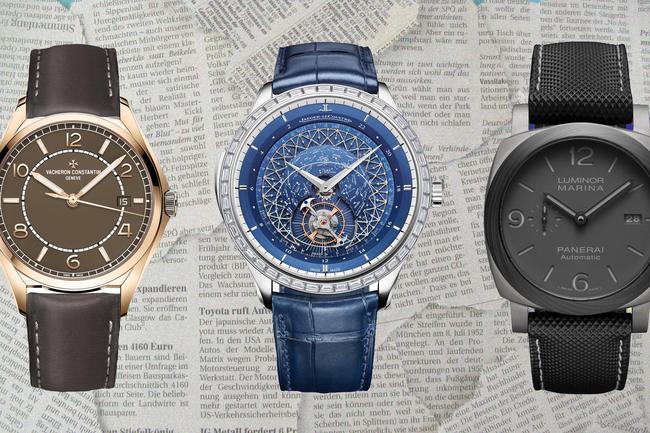 "I didn't know what Zoom was six weeks ago," Jean-Marc Pontroue, Panerai's global CEO, tells me, "and suddenly Zoom became our best friend."
Pontroue is certainly not alone. And like lots of other industries, the watch world, which uses a few annual trade shows—namely Baselworld and Watches & Wonders—to show off the hottest timepieces in the year to come, was flipped upside down.
"It all happened in less than 24 hours," says Pontroue. "First it was Italy, then us [in Switzerland]. Then we thought, 'We have to cancel Watches & Wonders.'"
But Pontroue says that as quickly as the event went, a new digital reincarnation of W&W was formed.
"We had a choice," says Pontroue, "it was digital or nothing." So a group of 30 brands, which in addition to Panerai includes Cartier, IWC, Montblanc, A. Lange & Söhne, Vacheron Constantin and a handful of others, came together and decided to form a new partnership with the tradeshow (Rolex, Patek Philippe, Tudor, Chopard and Chanel announced they would create their own show in conjunction with W&W and present in Geneva in 2021).
The result is something incredibly useful to the average watch obsessive, a group of citizens growing seemingly by the day: a website accessible to the public where brand executives and designers give the kind of presentation usually only available to press and retailers.
Now, anyone with an internet connection can discover the ins and outs of a brand's new releases. (The website will open up to the general public on Saturday.)
Baselworld, the other premier fair, was left in the lurch while the brands noisily announced that they were taking all their toys and going to another party.
"This departure follows a number of unilateral decisions made without consultation by Baselworld management, including the postponement of the watch show until January 2021, as well as its inability to meet the brands' needs and expectations," the typically taciturn Rolex announced in a press release.
The fact that W&W wouldn't happen this year encouraged brands like Rolex and Patek Philippe to take their releases off the calendar entirely. Others moved forward with slightly condensed "novelties," as watch brands refer to their new releases.
Panerai, for instance, intended on introducing an entirely new watch model outside of its traditional Luminor but decided to hold it for next year.
"Sometimes it's better if you have a great idea to keep it for when the audience will be much more receptive to a major innovation program," Pontroue says. Still, Pontroue clarifies that only a third of the collection was temporarily lopped off.
Probably as a result of brands' inability to present new collections physically, many of the novelties debuted this year are variations of already existing models: IWC expanded greatly on its signature Portugieser line, Panerai made its Luminor in badass black titanium, A. Lange & Söhne made sporty versions of an already beloved piece.
The new digital platform will attempt to replicate the ever-important experience of Being There as much as possible.
"We will use a series of videos and in-depth conversations with the people behind IWC to bring our new Portugieser collection directly from our home in Schaffhausen to the homes of journalists, partners, and customers across the globe," Christoph Grainger-Herr, IWC's CEO, said over email. "Visitors will even be able to take a virtual walk around the booth and experience augmented reality of our watches."
Panerai's Pontroue says that some of the experiments his team is trying now—like Zooming with all their most important clients—might stick around into the future. "It is a wake up call," he says.
Of course, the biggest positive is that the digital fair gives brands an opportunity to show off new watches. After a couple virtual laps around W&W's digital fairgrounds, here are our favourite novelties.
A. Lange & Söhne's Odysseus Rubber Strap
A. Lange & Söhne is famous for super-fine watches made out of precious metals—the kind you would wear out to a three-Michelin-star restaurant—or, err, a Zoom wedding. However, its Odysseus line, which includes the company's first stainless steel watch, was built to be a little bit more casual. Now, the brand is releasing that watch on an incredibly sporty rubber bracelet, but balancing that out with a white-gold case. (C'mon, they're not animals.)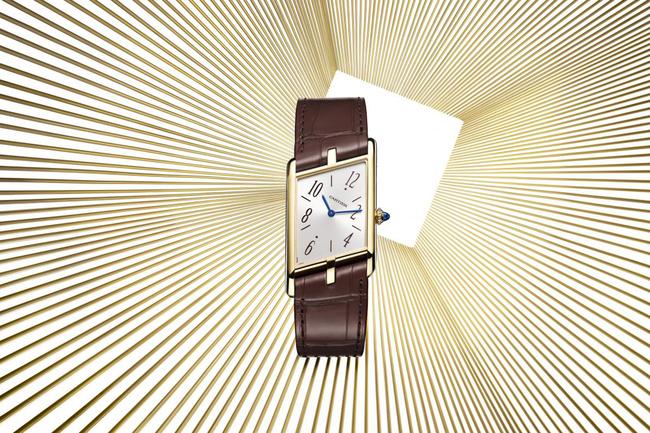 Cartier's Tank Asymetrique
Okay, forget everything I said about watchmakers throttling back on their most innovative pieces. Among the many new releases from Cartier, the most exciting is the tilted-on-its-axis Tank Asymetrique.
The watch is another example of how much burn Cartier continues to get out of its iconic Tank model. Throughout its history, the brand has released the stretched-out Cintrée, the boxy MC, the goldilocks Américaine, and the melty Crash—all variations on the original Tank.
The newest addition to this family is the Asymetrique, a watch that will literally turn heads—at a 30-degree angle, to be exact.
"Expanding the rectangle of the original Tank and moving the dial's numerals by 30 degrees to the right gives rise to an unusual watch," Cartier writes in a press release. Unusual has always paid off for Cartier.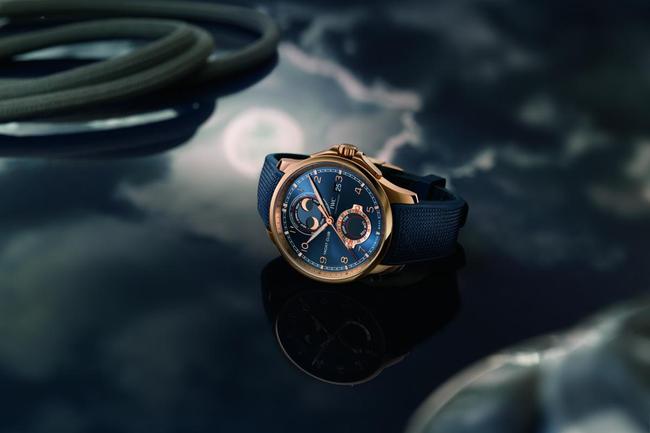 IWC's Portugieser Yacht Club Moon & Tide Chronograph
Competing watchmakers are always trying to one up each other with complications. That's why watches come with perpetual calendars that keep the exact date past when the original wearer will probably even be alive (the year 2100), or with "double flying tourbillons"—for when one tourbillon, airborne or not, just won't do.
But here's a new one from IWC: a feature that keeps track of high and low ocean tides. This new version of the Portugieser Yacht Club will be a lifesaver for owners of skiffs, schooners, sailboats, battleships, barges, canoes, catamarans, dinghies, and dorys.
The disk in the subdial just above 6 o'clock is synced with your time and location and rotates around to indicate the tide level. Hallelujah—you'll never have to go to Tide-Forecast.com again.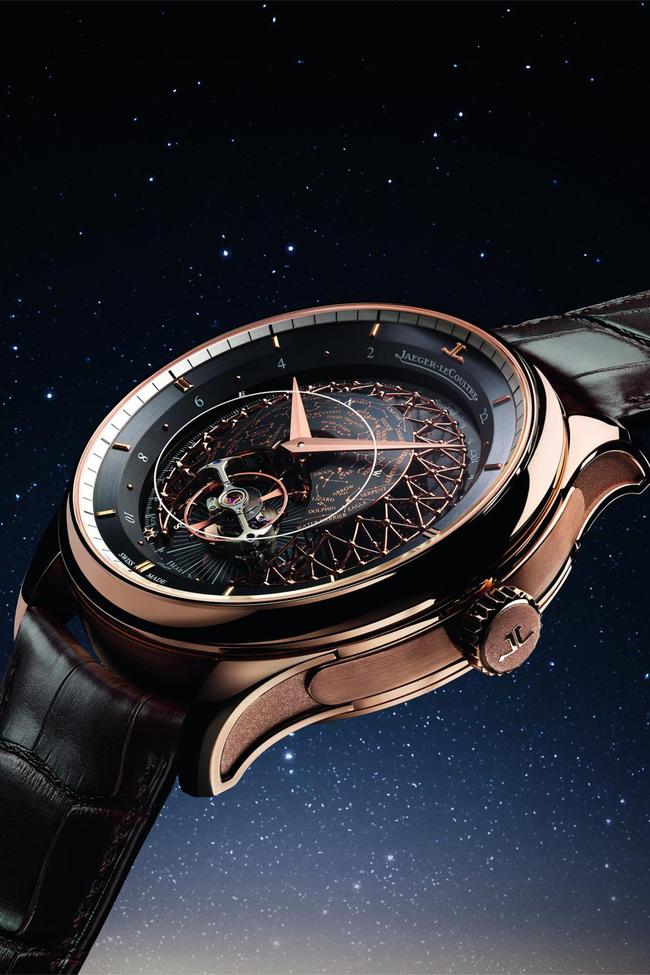 Jaeger-LeCoultre's Master Grande Tradition Grande Complication
Jaeger-LeCoultre absolutely outdid itself with this one. The multi-tiered dial here is known, in JLC parlance, as the "celestial vault complication."
Celestial. Vault. Complication. Roll that phrase around in your brain a few times and tell me it doesn't sound like we're about to go on an epic intergalactic adventure together.
Well, close! The complication refers to the entire system of the dial here—which, if you look closely, is slightly askew. The 2 o'clock marker, which is typically located on the top right, is now on the top left. The reason is that the interior numerals keep track of a "sidereal day," or the period of time it takes for Earth to rotate around fixed constellations. (This is the version of time astronomers, who study the stars, use to communicate what position the Earth will be in relative to those celestial bodies.)
Setting up the dial like this allows the wearer to keep a close eye on the solar system, while the golden sun indicator (seen right around the 10 o'clock marker in the above image) clocks the date, month, and Zodiac signs. The indices on the two outermost rings will help track "civilian time"—but where's the fun in that?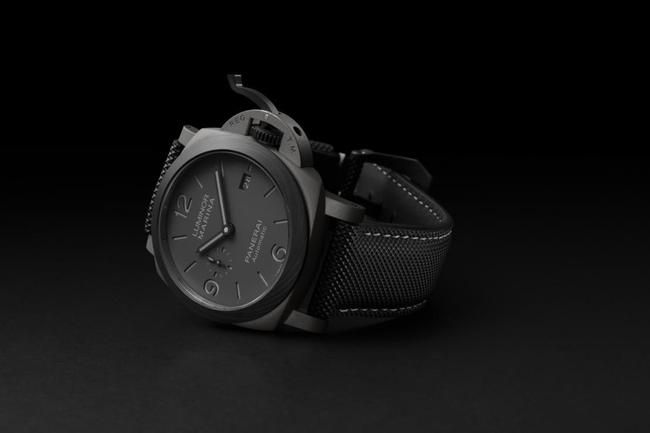 Panerai's Luminor Marina DMLS
Reading Panerai's release for this blacked-out Luminor is the closest I'll ever feel to having James Bond's gadget developer Q walk me through a new assortment of high-tech villain-crushing gizmos.
First, the watch's case is made with a 3D-printing process known as Direct Metal Laser Sintering (or DMLS). DMLS works by taking titanium powder and blasting it with a laser until it takes a solid shape, a process known as "sintering." How freaking cool is that?
The other pieces on the watch—the bezel and crown—are made of a carbon composite developed by Panerai and named…Carbotech! Hell yeah.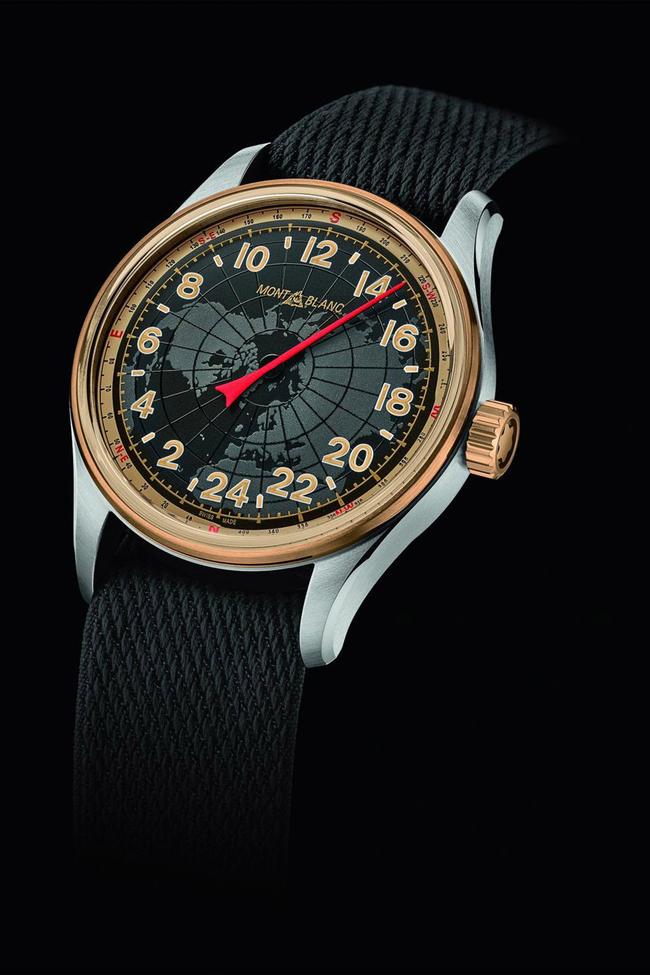 Montblanc's 1858 Automatic 24H
Montblanc does with one hand what many watch brands need two or three to accomplish. In addition to the striking War Games outline of the globe on the dial, what's really novel about this watch is its single thick red hand. (As the watch ticks, the combination of map and red hand will probably look like a sweeping radar.)
The version of the 1858 gives keeping time a looser feeling, a trend we've been seeing in the watch industry as our reliance on watches to tell the precise time wanes.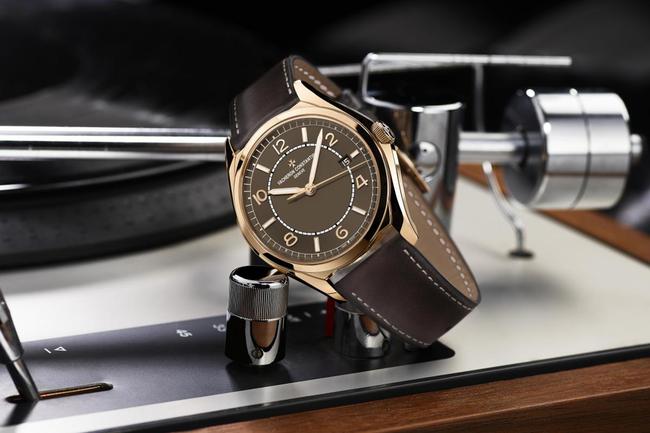 Vacheron Constantin's Fiftysix
With vintage watches taking the industry by storm, many brands have plumbed for ways to bring their unique feel and appeal to modern pieces. The latest James Bond Omega watch, for instance, features cappuccino-coloured numerals and indices that look aged.
This Vacheron Constantin similarly tries to drum up some of that magic with its chocolate dial—"a look imbued with a vintage touch," the brand's press release reads. Old, new, or straddling some unknown in between: this is an undeniably handsome watch.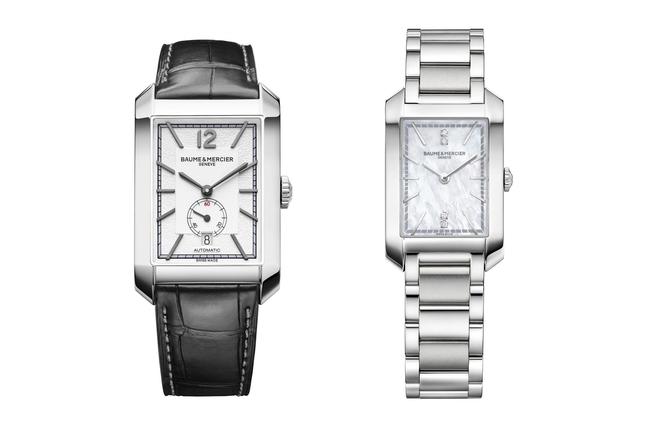 Baume & Mercier's New "Hampton" Watches
In the world of luxury, Baume & Mercier offers pieces at a relative value. (Pro tip: After looking at watches that often ring up at tens of thousands of dollars, almost anything will feel like a steal.)
The new Hampton pieces from B&M share the 1920s inspiration of the Tank but add some flair. The watch on the left ($4,040) makes things complicated with a date function and seconds subdial, while the one on the right goes for striking looks. Yes, that's a mother-of-pearl dial set with diamonds. Baume & Mercier calls it a "ladies'" watch; I don't care.